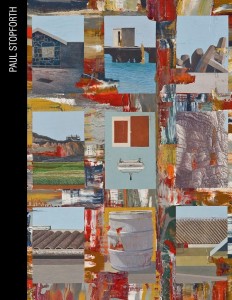 Paul Stopforth is known in South Africa for work that comments on the harshness and injustices of life under apartheid. His art – comprising sculpture, drawing, painting, and printmaking – is not, however, narrowly political but instead occupies a space 'between the material and the spiritual, imaging finitude and mortality'.
Under intense pressure because of his political affiliations, Stopforth left South Africa in the 1980s. He had helped to stage a ground breaking and provocative exhibition at the Market Theatre Gallery (where he was Director from 1977 to 1984) and later ran into trouble with the apartheid government over his powerful series of works based on the forensic photographs of Steve Biko's badly battered body.
Stopforth settled in the US, but over the years he has maintained ties with the country of his birth, returning for short periods to do work that engages intensely with the physical and psychological landscapes of home. In 2004, during a residency on Rob­ben Island he created a series of poignant paintings reflecting on the intense memo­ries contained in such objects as old blanket pins, bowls, and bars of soap used by the prisoners incarcerated on the Island before 1994. The series stands as a watershed in his oeuvre, connecting past to present not only in its subject matter but in Stopforth's own trajectory as an artist.
Stopforth has exhibited his work since 1971 in galleries and museums in South Africa, the United States and Europe. He has served as curator and juror for a number of insti­tutions and competitions, and in 2004 he delivered the Ruth First Memorial Lecture at Brandeis University.
This is fifteenth title in the TAXI Art Books series. It includes essays by Leora Maltz-Leca, Kate McCrickard, Judith Mason, and Anne Sassoon.
Anthea Pokroy is the author for the educational supplement published with TAXI-015 Paul Stopforth.
TAXI-015 Paul Stopforth will be available through David Krut Publishing